The Ultimate Trampoline Springs.
Dave Ross. Rebound Products Founder.
Revised May, 2018.
The second most important performance factor for a trampoline is the springs. We believe we make the best springs available. Certainly they are the most carefully researched, most commonly emulated and most expensive to make. However, with high volume sales we have been able to keep low prices. What you get is amazing value.
We started by reducing peak forces, and then redesigned our springs to match the power of today's beds.
Many, many hours of design and research, meticulous attention to detail and tests with many prototypes have resulted in an excellent understanding of what is required to produce a top quality trampoline spring. Most of our unique quality features, cannot be seen with the naked eye.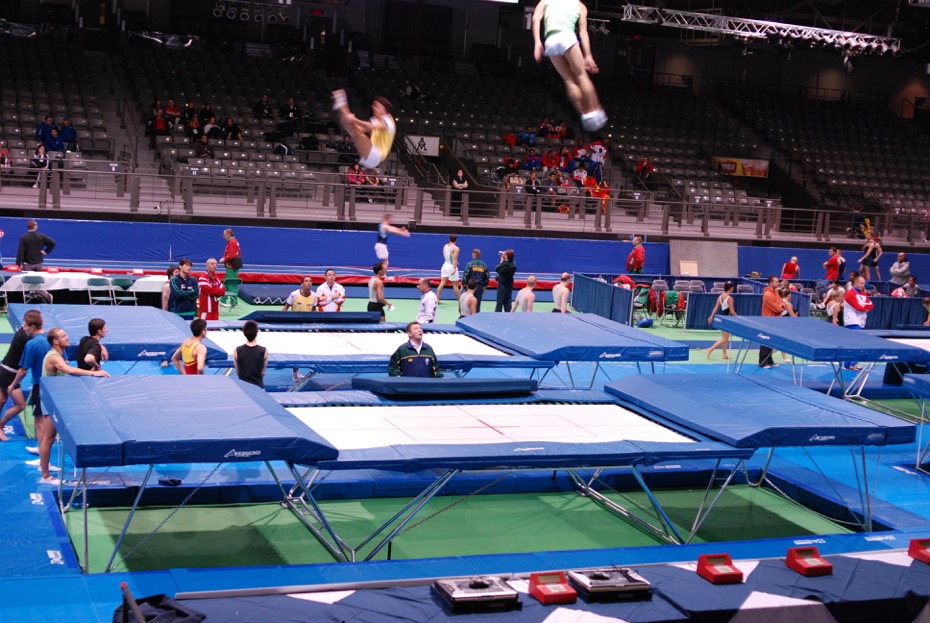 One you can see is a safety feature. The hooks have been squeezed to move the sharp end of the wire inward in case you fall through the springs.
Another is the tapered ends. This makes the hooks stronger and mitigates against the ends of the spring stretching out due to high speed loading when an athlete lands near a spring. This is no secret.
Rebound Products bothers to make the best springs we can. The features you can't see have not been copied, so we won't tell you about those!
At the 1996 and 2007 World Championships they proved that they are the best lasting springs ever supplied to any World Trampoline championships! Test of fire. Passed.
Trampoline springs were our first product, and were developed to work with commonly available trampolines. Hence they can be used on trampolines worldwide. The lifetime is excellent.
Our springs were instrumental in smoothing the bounce of common competition springs, which means after their force curve was copied, the feel and direction of throw now is almost identical to all competition springs worldwide.
Since 2007 competition trampolines have grown more powerful, athletes are jumping higher and wearing the springs out faster.
In 2014 after additional research we revised our springs to be slightly heavier to ensure we keep our superior lifetime with the more demanding performance requirements of today's athletes and equipment. The smooth bounce has been retained. As our springs are made to withstand longer stretch, they are the only trampoline springs that can stand up to the demands of a wall trampoline.
We were also the original producer of corner springs, which were designed to make trampolines much safer when an athlete lands near the edges or in the corners of a bed. Without corner springs an athlete who lands in the corner could be thrown right off the trampoline! Corner springs are now in used on every competition trampoline. Our beds should be used with 12 corner springs. Beds with corner rings use only 8 corner springs, but are slightly safer with 12. This is one example of how Rebound Products has been leading competition trampoline development and safety worldwide.
Rebound Products has also used our spring knowledge to purpose build the best possible springs for mini-tramps, double mini-tramps, power tracks and the super tramp.
Relentless product evolution continues. In 2020 we introduced our Rapid DMT springs. In 2022 the Rapid trampoline spring. The conversion to all Rapid springs will continue.
Rapid springs develop tension in less space. Using rope extenders, this puts the centre of gravity closer to the frame. The spring reacts faster due to a reduction in rotational inertia. So now we offer springs with both superior lifetime and a FASTER REACTION!