Product evolution towards excellence extends across our entire product.
Rebound Products is about Trampoline Evolution.
We have always focused on producing equipment with a superior lifetime to save a Club's money. Your sustainable future is here and now, with Rebound Products.
Dave Ross started in business by selling springs and refurbishing used trampoline frames in 1980. A wider frame was built in '81 and bed research started shortly after that. Rebound Products was incorporated in 1993, and continued to expand it's product line to include supplying the trampolines at the World Trampoline Championships in 1996 and 2007.
Our goal has been to assist the development of this great sport by continuing to set new standards for equipment regarding both safety and performance. As Rebound has continued to grow it has not lost sight of our objective.
The customer is a Club owner who wants to save money, as well as the Club members who wants to safely jump higher.
Dave Ross started out as both the coach who wanted to be able to afford better equipment and as the athlete who wanted a more stable and more powerful bounce.
With our Accessories we have either sourced out, or figured out how to make both high performing and durable products.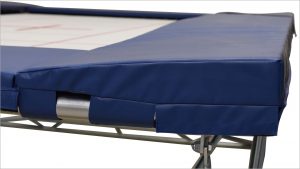 Thin near the bed, and thick near the frame. Held firmly in place.
Read More