Competition Trampolines, Customized Fabrications
Rebound Products is an authorized trampoline and trampoline equipment dealer. We produce and supply complete trampoline units, springs, accessories, beds and mats.
Our commitment to safety, quality and continuous improvement have helped us earn a reputation for credibility and longevity across Canada, the United States and around the world. We are a trusted dealer of national and international equipment. In fact, Rebound Products supplied all of the trampolines for 2 World Trampoline Championships.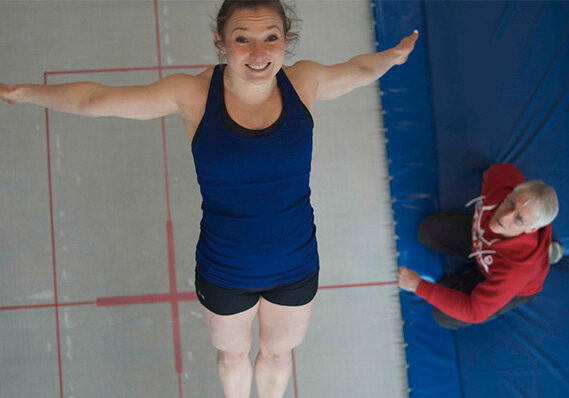 Rebound Products History
Rebound Products was born out of a passion for helping athletes achieve their goals and continuing to set new standards for equipment regarding both safety and performance.
With roots dating back to the late 1970s when Rebound Products owner and Olympic-level trampoline coach, Dave Ross, was competing, we proudly support dedicated athletes and coaches training to achieve their goals in national, international, world and Olympic competitions. He pioneered the 4-corner bungee system and was the first athlete to do 10 triples routine using it.
In addition to owning and operating multiple businesses, Dave Ross is an Olympic-level coach. One of his athletes Rosie MacLennan, is a two-time Olympic gold medallist, and the only trampolinist in the world to defend an Olympic title.
Rebound Products' trampolines and trampoline equipment are used at professional gyms and training sites for various sports, including trampoline, diving and snowboarding. Dave Ross and his team at Rebound Products have spent years researching, designing and testing trampoline equipment in search of advances in performance, safety, quality and durability.
Rebound Products Trampolines & Equipment
Rebound Products produces and distributes world renowned trampolines and trampoline equipment. Our products are used by coaches and competitors at the highest levels of international competition as well as professional entertainers (e.g., Cirque du Soleil and several cruise lines). Rebound Products has its own line of Canadian made equipment, and also is a dealer for the German brand Eurotramp.
We make folding trampolines and non-folding trampolines (7 x 14 folding trampolines and 6 x 12 folding trampolines), 2 string trampoline beds (7 x 14 spring trampolines and 6 x 12 spring trampolines), trampoline springs, tapered trampoline frame pads, double mini-tramps, mini-tramps, tumbling tracks and much more. Please visit our trampolines for more detailed information.
We have always focused on producing safe, durable equipment to help clubs reduce operating costs.
Cirque du Soleil's MJ One (Las Vegas)
""I have been using trampoline equipment for 30 years as a Canadian National Team member, a Cirque du Soleil performer, and a Cirque du Soleil coach. Over those years I have tried all sorts of equipment and none of it has matched the performance and durability of Rebound Product's equipment. I would recommend Rebound Products for all trampoline equipment needs, because of their leading edge equipment and the knowledge of Dave and his staff."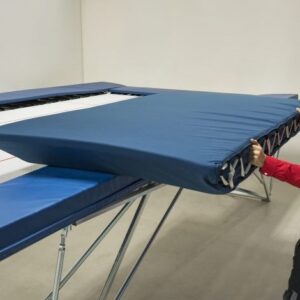 When it comes to trampolines and trampoline equipment, Rebound Products is the name to trust. As a world-renowned manufacturer and authorized dealer, they have been supplying high-quality trampolines, springs, accessories, ...