As a gym owner, it may be up to you to buy Olympic style trampoline equipment for the gymnasts at your club. While a well-made unit allows the team to safely exercise and train, are you aware of what to look for?
What is an Olympic style trampoline versus other types?
Olympic Trampolines:
Higher quality springs and beds.
Springs have more initial tension and give the bed a softer bottom.
Athletes can jump much higher for the same maximum force.
Top athletes can perform three rotations safely.
With the same effort, trampolinists can go much higher.
Sturdier frames which can withstand the forces required.
Have end platforms with mats on them and frame pads which cover the springs completely.
Pertinent areas and the centre can be marked for precision placement.
Recreational Trampolines:
Relatively low air passage.
Athletes can perform no more than one rotation safely.
The performer is not shot as high.
Good for fun, fitness, simple skill learning and the development of control and dynamic balance.
The choice of beginner competitors.
Black polypropylene bed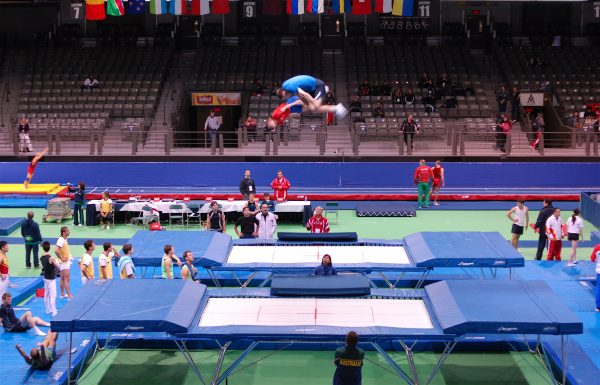 Trampolines for gymnasts: New versus used professional trampolines
Slightly used equipment and items that are over-stocked at the warehouse are sometimes available at reduced cost.
Buy professional trampolines from the best in the industry
Rebound Products, an authorized trampoline and trampoline equipment dealer, has been providing athletics, exercise, and Olympic trampolines and accessories for decades. The company produces and supplies complete Olympic and traditional trampoline units, springs, accessories, beds, and mats. Rebound Products is proud to have created a number of innovations in the industry. They are responsible for the innovation and promotion of:
Corner springs
Smoother force curve springs
Triangulated dual corner braces for frame stability
Thicker frame pads
Tapered frame pads
More powerful beds
Stiffer trampoline legs for improved frame stability
Buy Olympic style trampolines
Rebound Products' products are used by coaches and competitors at the highest levels of international competition. Rebound Products exclusively uses Canadian suppliers, except for folding trampolines from Germany.
We always focus on producing safe, durable equipment to do our part to help clubs with capital expenses. Our commitment to excellence can be seen in all of the equipment and accessories sold.
The history of trampoline gymnastics at the Olympics
The Olympic style trampoline gymnasts prefer has many features. This is because training for Olympic events takes substantial time and effort and every advantage provided by the equipment used for training can be extrapolated to success in the events themselves.
To understand the pressure put upon Olympic athletes to succeed, it is helpful to look into the history of the sport itself.
Trampoline gymnastics is the newest of gymnastics' three Olympic disciplines of Acrobatic Gymnastics, Aerobic Gymnastics, and Parkour. It was added to the Olympic program at Sydney 2000. You may be interested to know that, for the 2024 Games, the FIG (Fédération Internationale de Gymnastique) has proposed the inclusion of Synchronized Trampoline as well.
Present day trampolining at an Olympic level sees gymnasts participating in relatively short events. The women's qualifying and medals take place in one day, and the men's is scheduled on the next. It's gymnastics like you are familiar with, but performed on a trampoline. Typically, trampolinists will first bounce straight up and down to get their highest elevation and will then do 10 straight tricks before dismounting.
In competition, the tricks can include anything from simple jumps in the straight, pike, tuck, or straddle position to more complex combinations of forward and/or backward somersaults and twists. Scoring is based on the difficulty and on the total seconds spent in the air. Points are deducted for bad form and horizontal displacement from the center of the bed. This is why the markings on an Olympic style trampoline are so important.
Trampoline facts
Trampolines were initially inspired by trapeze artists: Trampolines were invented in 1936 by George Nissen and Larry Griswold. The pair were inspired by trapeze artists, or more specifically, the safety nets that were used. The prototype was constructed using tire inner tubes and steel.
Trampolines can make eyes stronger: Trampoline bouncing applies increased G-force. Regular jumping on trampolines can help to strengthen the eye muscles and ocular nerves. Physical activity of this type also stimulates cells to restore the shape and function of eye lenses.
Trampolining is an Olympic sport: Trampolining became an official Olympic sport during the 2000 Games in Sydney. Men's and women's events see competitors judged based on their performance displayed and height reached.
We're ready when you are
If you buy Olympic trampolines for your gym or club, you know how important it is to be able to depend on your dealer. Rebound Products has an excellent reputation for dedication to our customers as demonstrated by our after-sales service. We design and manufacture custom trampolines, and assist with the maintenance of all equipment and accessories.
Our reputation boasts high-quality equipment, product knowledge, and excellent customer service. Customers are consistently impressed by how easy it is to deal with Rebound Products and remain satisfied customers for years. Our staff is equally passionate about everything to do with trampolines and accessories as they are about the safety and enjoyment of the equipment.
It's easy to contact us by calling 905-787-9090 or toll Free 877-573-2686. Alternatively, you can email us at reboundproducts@gmail.com or send a message via our reboundproducts.com website. Our knowledgeable and friendly staff welcomes all inquiries.