As a gym owner or an entertainment facility operator, it may be up to you to buy professional trampoline equipment for your site. While a well-made trampoline allows your members to safely exercise, train, or have fun, do you know what else to look for?
Facility owners and operators all over the world consistently want to buy professional trampolines and buy competition trampolines that satisfy several characteristics regarding both the equipment and the dealer:
high-quality and robust materials
high-performing and stable components
durable and sustainable equipment
innovative designs
highly tested features
readily-available accessories
dependable customer service
Buy from the best in the industry
Rebound Products, trampoline equipment manufacturer, has been providing athletics, exercise, and Olympic trampolines and accessories to sites like yours for decades. Rebound Products produces and supplies complete trampoline units, springs, accessories, beds, and mats.
Rebound Products is proud to have created a number of innovations in the trampoline world. They are responsible for the innovation and promotion of:
Corner springs
Smoother force curve springs
Triangulated dual corner braces for frame stability
Thicker frame pads
Tapered frame pads
More powerful beds
Robust end decks
Stiffer trampoline legs for improved frame stability
Buy professional trampoline equipment and accessories
Rebound Products produces and distributes world-renowned trampolines and trampoline equipment. Our products are used by coaches and competitors at the highest levels of international competition as well as by professional entertainers (e.g., Cirque du Soleil and several cruise lines). Rebound Products exclusively uses Canadian suppliers for the best quality materials.
We make many styles of trampolines (7×14 trampolines and 6×12 trampolines), 2 string trampoline beds, trampoline springs, tapered trampoline frame pads, double mini-tramps, mini-tramps and much more. Please visit our trampoline pages for more detailed information.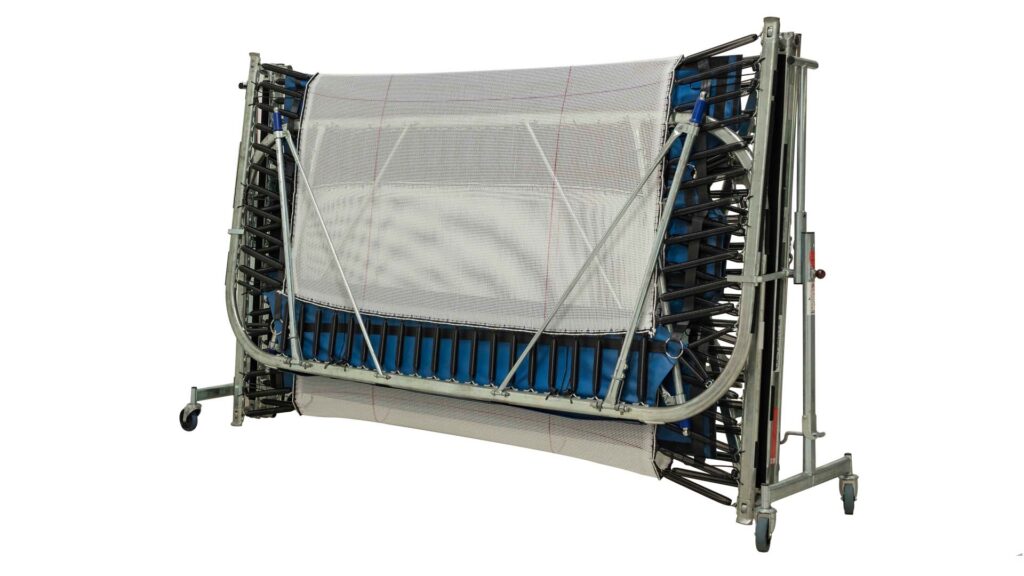 Rebound Products has always focused on producing safe, durable equipment to do our part to help clubs with capital expenses. Our commitment to excellence can be seen in all of the equipment and accessories that we sell.
We're ready when you are
If you buy trampolines for gyms or other popular facilities, you know how important it is to be able to depend on your supplier. Rebound Products has an excellent reputation for dedication to our customers as demonstrated by the after-sales service. We will design and manufacture custom trampolines where required, and assist with the maintenance of all equipment and accessories.
Our reputation boasts high-quality equipment, product knowledge, and excellent customer service. Customers are consistently impressed by how easy it is to deal with Rebound Products and remain satisfied customers for years. Our staff is equally passionate about everything to do with trampolines and accessories as they are about the safety and enjoyment of the equipment.
It's easy to contact us by calling 905-787-9090 or toll Free 877-573-2686. Alternatively, you can email us at reboundproducts@gmail.com or send a message via our reboundproducts.com website. Our knowledgeable and friendly staff welcomes all inquiries.