You may remember when Rebound Products introduced its own folding frame and the many benefits that it offered. If you need a reminder, here is the announcement…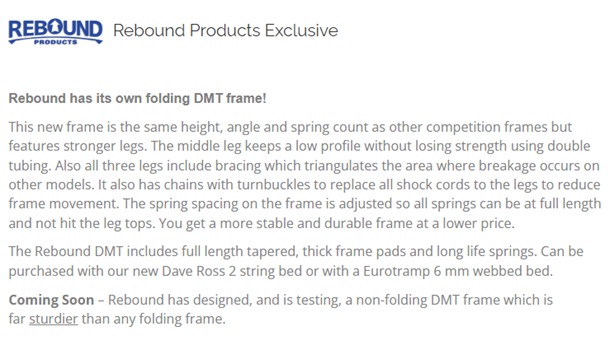 Note that, at the end of the announcement, we promised to introduce a sturdier, non-folding DMT frame and said that it was "coming soon." Well, the wait is over!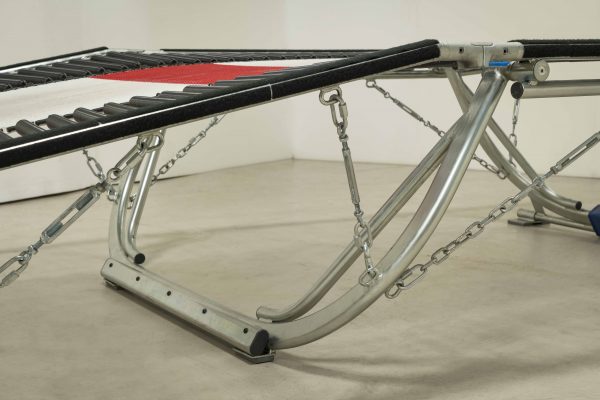 Introducing Rebound's Groundbreaking Non-Fold Double Mini Trampoline (DMT)
This game-changing frame is intended to push the sport to the next level. By drastically decreasing frame flex on impact, the idea was to produce a sturdy platform that returns all of the athlete's run energy into height. There is no hinge. There are no chains. There are no shock cords to keep the legs in place. Everything is secure and offers extra support.
This amazing unit is now ready for sale after years of design, prototyping, and testing. Rebound's huge circular tube steel allows for increased shock cord stress on the ends. This DMT renders traditional units obsolete.
Available as:
DMT – Frame only
DMT – Complete w/RB parts (2 str. Bed)
DMT – Complete w/RB parts (except has Euro 6mm bed)
Euro DMT (Ult) – Complete w/E parts (6mm web Bed)
Rebound Products Trampolines and Equipment
Rebound Products manufactures and sells world-class trampolines and trampoline equipment. Coaches and athletes at the highest levels of international competition, as well as professional entertainers, use our products (e.g., Cirque du Soleil and several cruise lines). Rebound Products manufactures its own equipment and is a dealer for the German brand, Eurotramp.
We make folding trampolines and non-folding trampolines (7 x 14 folding trampolines and 6 x 12 folding trampolines), 2 string trampoline beds (7 x 14 spring trampolines and 6 x 12 spring trampolines), trampoline springs, tapered trampoline frame pads, double mini-tramps, mini-tramps, tumbling tracks, and a variety of other products.
We have always focused on manufacturing safe, long-lasting equipment to assist clubs in lowering operational costs.
Rebound Products' History
Rebound Products was founded on a passion for assisting athletes in reaching their goals while also continuing to set new standards for equipment in terms of both safety and performance. We proudly support devoted athletes and coaches training to reach their goals in national, international, world, and Olympic events, with origins extending back to the late 1970s when Rebound Products owner and Olympic-level trampoline coach, Dave Ross, was competing. He invented the 4-corner bungee system and was the first athlete to use it to perform a 10-triple jump routine.
Dave Ross is an Olympic-level coach in addition to owning and operating many enterprises. Rosie MacLennan, one of his athletes, is a two-time Olympic gold medallist and the only trampolinist in the world to defend an Olympic title.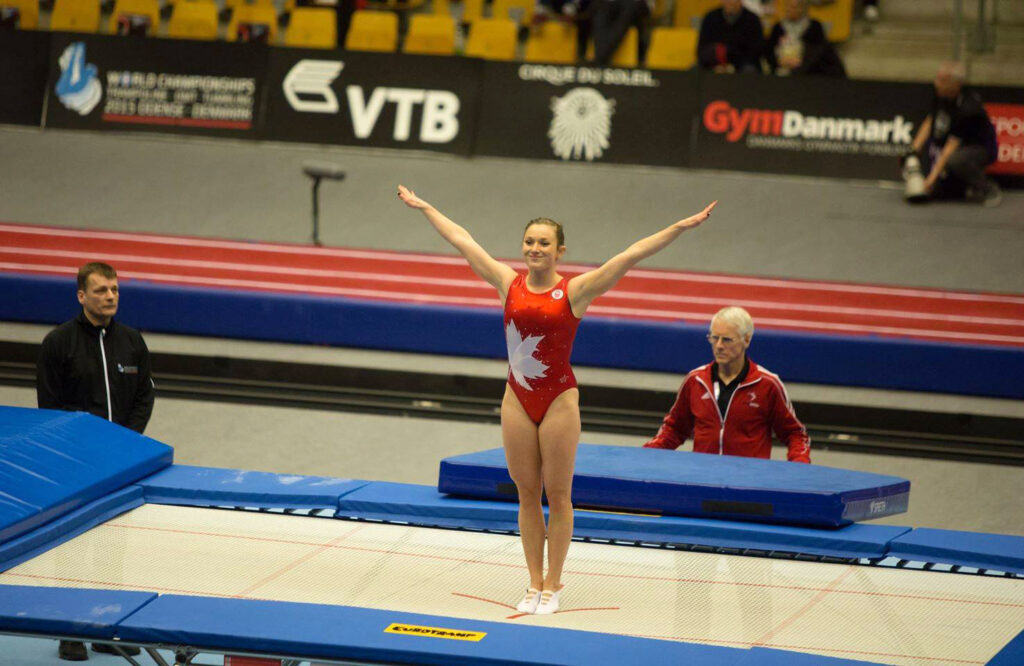 Trampolines and trampoline equipment from Rebound Products are utilized in professional gyms and training facilities for a variety of sports, including trampoline, diving, and snowboarding. Rebound Products' Dave Ross and his crew have spent years researching, designing, and testing trampoline equipment in quest of improvements in performance, safety, quality, and longevity.