Rebound Products' trampolines are designed with the needs of our customers in mind. We're not just another fitness equipment company; we provide solutions for gym owners who want to serve their members well. The products are made from high-quality materials and have been tested to ensure that they meet the highest standards.
We've built relationships with gyms across the country and understand how important it is for them to keep up with the latest trends and technology. This means that we can offer our customers a wide range of equipment and services, including advice on what works best for their individual facilities.
The right fit
The team at Rebound Products goes above and beyond to help gym owners find the right fit. We are committed to providing superior quality products and exceptional customer service. We are proud of the reputation that we have earned for providing stellar products and services and we believe that they are the key differentiators between us and other companies. Our goal is to provide the best possible experience for all of our customers.
Our customers get the last word
Just take a look at what satisfied customers have said about us:
"Thanks to Dave Ross and Rebound Products for developing and continually producing equipment that holds up to time and the pounding that athletes put on them. I would like to say that I have tried the rest, but I will continue to purchase my equipment from the best! You and your company provide safe, durable equipment at the best possible price point. Thank you for doing so for the betterment of the sport." ~ S. David
"What encourages us to buy from Rebound is your quality, product knowledge and customer service. It's seldom that one runs across Canadian-made products that can honestly be touted as the best in the world. Rebound tramps and accessories are among the few. It's not only the product quality that has made Diving Canada a repeat Rebound customer, but also a fair dose of pride that comes with doing business with a Canadian industry pioneer and sport trail-blazer such as Dave Ross." ~ M. Geller
"I have been using trampoline equipment for 30 years as a Canadian National Team member, a Cirque du Soleil performer, and a Cirque du Soleil coach. Over those years I have tried all sorts of equipment and none of it has matched the performance and durability of Rebound Product's equipment. I would recommend Rebound Products for all trampoline equipment needs, because of their leading edge equipment and the knowledge of Dave and his staff." ~ P. Cameron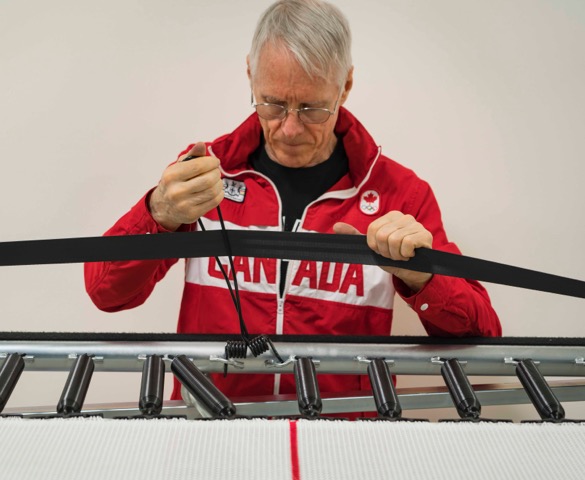 We eat, sleep, and breathe trampolines!
The best part of our job is consulting with customers to ensure that we recommend the right products and equipment, and provide gym owners with the most appropriate services.
If you want more information or have any questions, please feel free to contact us via phone at 905-787-9090 or Toll Free at 877-573-2686. Our email address is reboundproducts@gmail.com. All enquiries are welcome.