When buying used competition trampolines, there are several things to consider before making your purchase. Here are some tips to help you make the best decision.
Used competition trampolines are a great investment because they can be just as useful as new ones. They also offer the same features as new ones, such as sturdy frames and end platforms with mats on them.
The pros and cons of buying used competition trampolines
When purchasing competition trampolines, there are several things you should consider before making a purchase, such as:
How much do you want to spend?
What size of trampolines would work best for you?
Is it better to buy brand new trampolines or used ones?
The answers to these questions and many others must be considered when buying used competition trampolines.
In consideration of used trampolines specifically, additional questions should be asked, such as:
Is the safety equipment intact?
Does the frame still look good?
Are all the springs fully functional?
Has the matting been replaced?
Have any repairs been made?
Are there any signs of wear and tear?
Is there a warranty in place?
What is the condition of the wheels?
How much does the trampoline cost?
Are any additional repairs needed?
What is the return policy?
What is the guarantee period?
Do your homework
Buy from an authorized dealer – Buying from an authorized dealer or manufacturer ensures that you are getting a quality product.
Shop around – Always compare prices between dealers. Some dealers sell at lower prices than others. Therefore, always ask around to see who offers the best deals for your needs.
Read reviews – Reading reviews can help you decide whether or not you should buy a particular item. It is always better to get a second opinion.
Be flexible when shopping – Don't let your preferences become too rigid. Sometimes, you can save money by being flexible.
The advantages of purchasing used equipment from a reputable source
Making your purchase from a dealer, and better yet, a manufacturer gives you an opportunity to get exactly what you want in your competition trampoline. Buying used trampoline equipment is a particularly smart move if you want to save money.
As well, ask the important questions about safety, warrantees, recalls, and equipment lifespan. Research the dealer/manufacturer and the specific equipment that you wish to purchase. Arm yourself with as much information as you possibly can, to ensure that your purchasing decision is an informed one.
Buy from the best in the industry
Rebound Products (Inc. 1993) is all about trampoline Evolution. Their mission is to assist the development of this great sport by continuing to set new standards for equipment regarding both safety and performance. As always, we keep the customer in mind!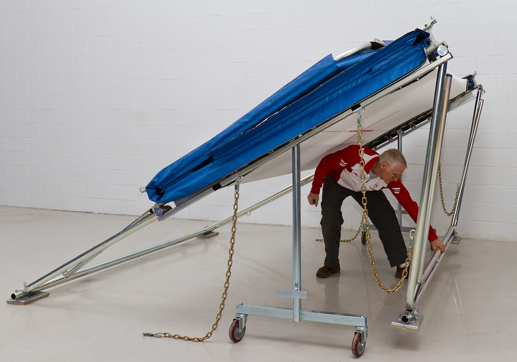 The customer is a club owner who wants to save money, as well as the club members who want to safely jump higher. The owner, Dave Ross, started out as both a coach who wanted to be able to afford better equipment and an athlete who wanted a more stable and more powerful bounce.
Rebound Products has always focused on producing equipment with a superior lifespan to save a club money.
Regarding slightly used equipment, Rebound Products occasionally has some equipment or overstocked items in the warehouse. Often, the used items will have a slightly reduced lifespan, but that is reflected in the price.
Note that, as the equipment is classified as used, the importer will enjoy reduced fees for customs purposes. This information will be verified before shipping. All equipment can be modified or repaired on demand.
The sustainable future is here and now! Contact Rebound Products for more information, or to speak with an expert about your purchasing intentions. All inquiries are welcome.