Backgrounder
Rebound Products
Toll Free : (877) 573-2686
Phone: (905) 787-9090
Fax: (905) 787-0650
Email: reboundproducts@gmail.com
Mailing Address:
Rebound Products Inc.
19 Kings College Rd.
Thornhill, ON L3T 5R7
Canada
Shipping Address:
Rebound Products Inc.
565 Edward Ave Unit 6&7
Richmond Hill, ON L4C 9W8
Canada
Product/Services
Rebound Products is an authorized trampoline and trampoline equipment dealer. They produce and supply trampolines, springs, accessories, beds, and mats.
Their devotion to safety, quality and constant development has earned them credibility and longevity in Canada, the U.S., and worldwide. They sell to national and international markets.
Professional athletes, coaches, and entertainers use the products (e.g., Cirque du Soleil and several cruise lines). Rebound Products sells both Canadian-made and German-made equipment.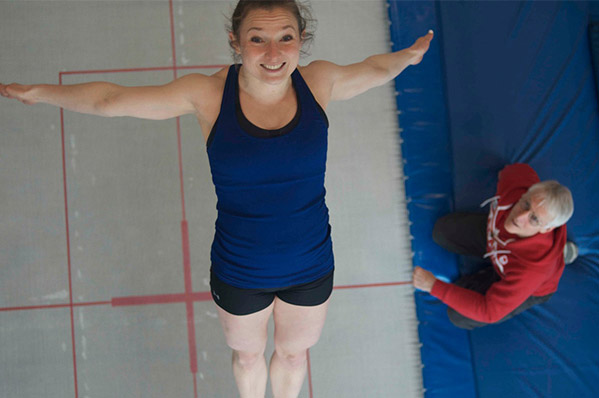 Leaders in the Industry
Rebound Products' trampolines are designed in a customer-focused manner. High-quality products have been tested to satisfy the most stringent of requirements.
Rebound Products has created relationships with gyms across the country because the team understands the importance of staying current. They offer a wide selection of equipment and services, including advice on what works best for each facility.
Innovations
Rebound Products maintains a stellar reputation in the industry with innovative ideas and products that have achieved international acceptance:
– Corner springs
– Smoother force curve springs
– Triangulated dual corner braces for frame stability
– Thicker frame pads
– Tapered frame pads
– More powerful beds
– Level end decks
– Stiffer trampoline legs for improved frame stability
Responsive Customer Service
The team at Rebound Products eats, sleeps, and breathes trampolines. They consider the best part of the job to be consulting with customers to ensure that the right products and equipment are recommended, and that gym owners are provided with the most appropriate services.
Problem-Solvers
The Rebound Products team goes above and beyond to assist gym owners in finding the ideal equipment. They are committed to providing products of outstanding quality as well as superior customer service.  They have developed a great reputation for producing exceptional products and services, which they believe are the primary factors that distinguish them from other companies. The objective is to provide all customers with the best possible experience.
The History of the Company
Rebound Products was founded to help athletes achieve their goals and create new safety and performance standards for equipment.
Rebound Products owner and Olympic-level trampoline coach, Dave Ross, has helped athletes and coaches since the late 1970s. He invented the 4-corner bungee system and did a 10-triple routine with it.
Professional gyms and training facilities employ Rebound Products' trampolines and equipment for trampolining, diving, and snowboarding. Dave Ross and his colleagues at Rebound Products have spent years studying, inventing, and testing trampoline equipment.
Peer Recognition
Satisfied customers have raved about the excellent products, services and customer service provided over the years.
Equipment:
"Thanks to Dave Ross and Rebound Products for developing and continually producing equipment that holds up to time and the pounding that athletes put on them." – S. David
Quality:
"Quality performance with reliability that's unmatched and at a great price. Researching with a passion for excellence. We believe Rebound Products produces the finest quality trampoline products that money can buy. Dave Ross has proven to be the best mind in research and development of trampoline products since George Nissen invented the apparatus." – B. Young
"What encourages us to buy from Rebound is your quality, product knowledge and customer service. It's seldom that one runs across Canadian-made products that can honestly be touted as the best in the world. Rebound tramps and accessories are among the few." – M. Geller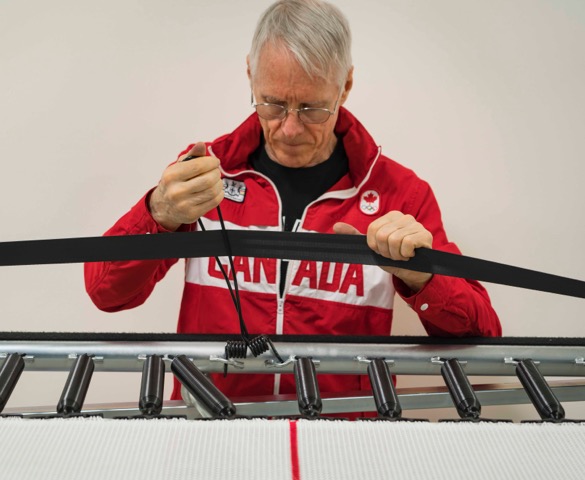 Performance and Durability:
"Equipment that lasts over countless years. We have confidence in all the products that Rebound makes. They are the safest and most reliable as they have been tested in real training environments by the most renowned athletes and coaches in Canada and also internationally. They are designed by experienced people who have an impressive knowledge of the characteristics of our wonderful world of aerial aerobatics. The different throw pits are ideal for safely learning new skills. They are also continually researching and innovating to evolve trampoline equipment." – C. Paquin
A Vision for Success
The team at Rebound Products has always focused on producing safe, durable equipment to help clubs reduce operating costs. The satisfaction of individuals in the community and customers from all areas of business is the primary concern of the team. This customer-centric attitude will surely take them into a successful future.