Trampolines can be usually found in homes and athletic facilities. You're sure to find them in circuses, gyms, schools and training centres for athletes. They're fun to jump on whether you're an adult or a child; the thrill and adrenaline rush from bouncing on one is addictive!
If you've ever wondered where the first complete trampoline unit was created, then you have come to the right place. Here is a breakdown of all the details. Who knows, you just might be inspired to invest in one…or buy an Olympic style trampoline!
Who Invented the Trampoline?
Born in Iowa, George Nissen and Larry Griswold invented the first folding trampolines in 1936. They also mass produced them and popularized their use through the Nissen Corporation, and constant efforts by George Nissen. Prior to that attempts to use a trapeze net as a device of its own were used by circuses. These did not have a frame and required border cables to supply tension. They were nicknamed "stage wreckers". The name trampoline may have come from the Spanish word for a diving springboard, or from a French trapeze artist Du Trampoline who was known for acrobatic stunts off the trapeze net. Other acrobats had experimented in the 30's with fixed frame rebounding units with solid canvas beds and stretched out bicycle tubing for springs. One example being John Henderson of Kamloops BC in 1931.
Their goal for this invention was to create a training device for other sports. Nissen was a gymnast and a diver.. Griswold was also a gymnast (and quite a gifted tumbler). . They probably had no idea how popular their invention would become!
The Purpose and Transformation
Trampolines have been used for multiple purposes, including training pilots to develop a sense of orientation, reducing their fear of heights and developing greater strength and agility. They have also been used to help prepare astronauts for their journeys into outer space. By stimulating the feelings of weightlessness combined with using the level of oxygen in their body effectively, using a trampoline became a tool to improve balance. That's not all, trampolines have also played a pivotal role in helping astronauts adjust to life back home after they return!
Trampolines became an official sport in Sydney at the 2000 Olympic games and has attracted talented athletes from around the world. The evolution of the trampoline is quite fascinating; from its initial use as a piece of training equipment, this bouncing device is also enjoyed as a recreational item found in many backyards. Efforts to produce these at the lowest price point have often compromised the quality.
Trampolines are available in a wide range of styles and sizes. They can be rectangular, round, or even oval; every type of trampoline is designed to give you a varied bounce and height. There are many uses, types and purposes. It's no wonder why they have become so popular!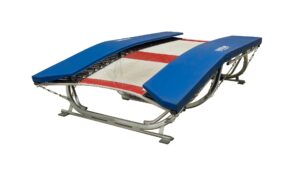 The Bottom Line
If you are a gym owner or a gym coach and you don't have a trampoline yet, you're missing out! They are incredibly versatile because they come in a wide variety of price points and styles.
Call a sales representative at Rebound Products to learn more about your options today! A trampoline is a worthy investment certain to help you and your students stay active and have fun.
(Dave Ross has been called George Nissen's successor by some trampoline coaches. This is due to his constant trampoline equipment innovations. Dave considers that both a stretch and a compliment.)