Based in Ontario, Canada, Rebound Products is an authorized trampoline and trampoline equipment dealer. For the international market, we manufacture and supply complete trampoline units, springs, accessories, beds, and mats. As a result, our dedication to safety, quality, and continuous improvement has helped us establish credibility and longevity in Canada, the United States, and around the world. Because of our stellar reputation, we were chosen as the official trampoline supplier for two World Trampoline Championships.
Our History
Rebound Products was founded on a passion for assisting athletes in reaching their goals while also continuing to set new standards for equipment in terms of both safety and performance. We proudly support dedicated athletes and coaches training to achieve their goals in national, international, world, and Olympic competitions, with roots dating back to the late 1970s when Rebound Products owner and Olympic-level trampoline coach, Dave Ross, was competing. Ross invented the 4-corner bungee system and was the first athlete to use it to perform 10 triples in a routine.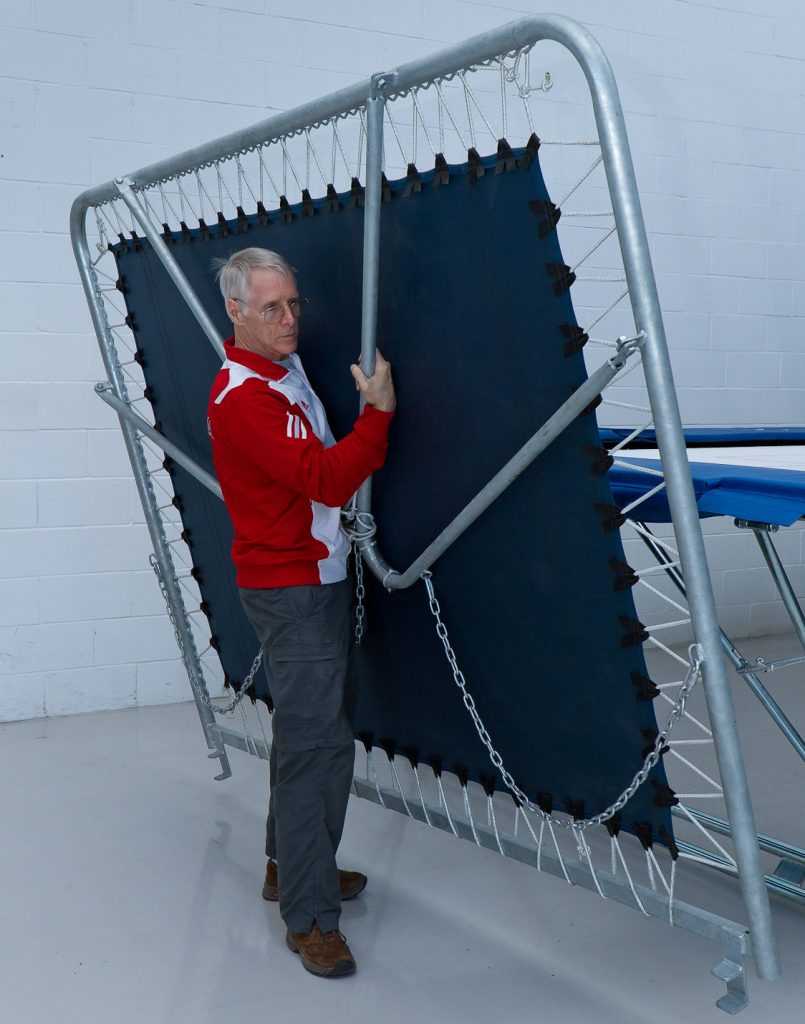 Dave Ross is an Olympic-level coach in addition to owning and operating multiple businesses. Trampolines and trampoline equipment from Rebound Products are used in professional gyms and training sites for a variety of sports, including trampoline, diving, and snowboarding. Ross and his Rebound Products team have spent years researching, designing, and testing trampoline equipment to improve performance, safety, quality, and durability.
Rebound Products Trampolines and Equipment
Rebound Products manufactures and sells world-class trampolines and trampoline equipment. Coaches and competitors at the highest levels of international competition, as well as professional entertainers, use our products (e.g., Cirque du Soleil and several cruise lines). Rebound Products manufactures its own equipment and is a dealer for the German brand Eurotramp.
We manufacture folding and non-folding trampolines, 2 string trampoline beds, trampoline springs, tapered trampoline frame pads, double mini-tramps, mini-tramps, tumbling tracks, and a variety of other products. We have always focused on producing safe, long-lasting equipment in order to assist clubs in lowering operating costs. For more information, please visit our trampolines page.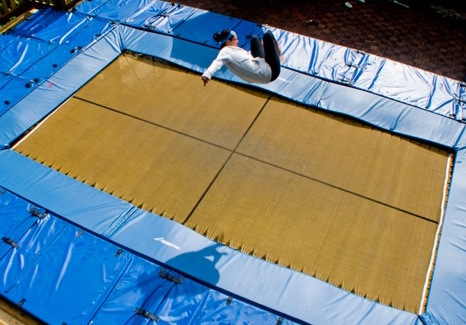 7 Reasons Why You Should Choose Rebound Products
Quality: Rebound has a commitment to high-quality materials and superior craftsmanship that results in durable trampolines that can last for years with appropriate maintenance.
Safety: Trampolines at Rebound Products feature a variety of safety features, including thick padding around the edges, sturdy steel frames, and secure netting that reduces the risk of injury from falls or impacts.
Variety: Rebound offers several models of trampolines to meet every specific need and preference. Whether you are looking for smaller trampolines for more personal use or gymnasium-style arena models, Rebound has them.
Price: Competitive prices ensure that the purchase of a safe and high-quality trampoline from Rebound Products is a wise choice.
Accessories: Additional equipment is available to enhance your experience and maintain your investment in Rebound Products, including mats that protect the frame from wear over time and safety nets that create an enclosed area over the jumping surface where desired.
Warranty: Surety is provided by manufacturer warranty programs ranging from 6 months to 5 years, depending on the type of product purchased, so you can enjoy stress-free jumps without worrying about repairs or replacements.
Customer Support: If you have questions during the ordering process or while using the products, our team is happy to assist. As well, we offer grace service should an issue arise during the shipment or assembly processes. These services assure ultimate customer satisfaction and comfort.
On a Final Note
Rebound Products offers a wide range of trampolines with great features and benefits that make them an ideal choice for anyone looking to purchase safe and reliable trampolines. With its competitive prices, comprehensive warranties, and excellent customer service, Rebound Products is the perfect place to shop.