Rebound Products is a company that provides high-quality trampolines and accessories to a global market. We have garnered a multitude of global 5-star reviews, with customers praising both the company itself and its exceptional products. The positive feedback highlights the outstanding customer service, quick response times, and attention to detail that Rebound Products consistently offers.
Our experienced team provides stellar service
One customer, Ryan P., commends the company's amazing customer service and the prompt and detailed instructions provided for any issues that arose. Lynda K. expresses gratitude for the friendly and speedy service, with goods arriving quickly and in good condition. Mike S. describes the people at Rebound Products as wonderful to work with and their products as excellent, claiming they are the best in the business. Nathaniel W. also praises the business for consistently providing excellent service and quick response times. Wellington L. states that they are always happy with the company's products, indicating a consistent level of quality.
There is a Rebound Products trampoline for every purpose
Kyle S. provides a glowing review, stating that Rebound Products is a genuine company that provides excellent service and exceeds expectations. They recommend the company to anyone looking for innovative equipment with quality that withstands the test of time. Anthony S. shares their experience of contacting Rebound for a quotation on an Olympic trampoline. They highlight the helpfulness of Ryan and the team throughout the quoting process, ensuring a perfect fit for their needs. They express their support for a local Canadian company.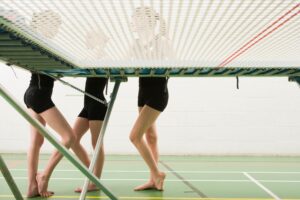 Service beyond compare
Jean-François L. emphasizes the promptness of the company's reply to their inquiry, and Yves M. highly recommends Rebound Products, describing their service as excellent all the way. Luke S. praises the phenomenal products made by Ryan, Dave, and the entire team at Rebound Products. They appreciate that the company is a small niche group of dedicated professionals producing premium domestically made goods. Richard L. consistently receives great service from Ryan Weaver at Rebound Products, and Jayne M. describes the company's service as excellent and prompt, with all questions answered knowledgeably.
High-quality products from a reliable company
Burton recommends Rebound Products for clubs that do not need to fold their trampolines, describing their products as very good and cheaper. Cameron O. commends the equipment for its quality, safety, and performance, highlighting various products they have used, including 2-string performance trampolines, a non-folding string bed DMT, a rebound mini trampoline, and a 40-foot power track. Antony R. is impressed with the perfect and fast service they received and recommends the company wholeheartedly. Javier R. declares Rebound Products their favourite company, praising the quality and resistance of the products. They also commend the extraordinary customer service, with CEO Ryan becoming a friend and ally.
Positive social proof is encouraging
Overall, Rebound Products has received an abundance of positive reviews from satisfied customers who vouch for the high quality of their products and the exceptional customer service they provide. The company's commitment to excellence and their ability to consistently exceed customer expectations have established them as a trusted and reputable brand in the industry.
We love guiding customers to get the best Rebound Products trampolines and accessories for their needs
Here is a selection of reviews from some of our valued customers:
"Rebound has been amazing. Customer service has been nothing but amazing. Quick responses and detailed instructions on the minimal issues we've had." ~ Ryan P.
"Goods arrived very quickly in good condition. Thank you so much for the friendly speedy service." ~ Lynda K.
"Wonderful people to work with and excellent products. Best in the business!" ~ Mike S.
"Always great service and a good response time." ~ Nathaniel W.
"Genuine company providing excellent service. Exceeded expectations. I would recommend it to anyone looking to purchase the most innovative equipment with quality that withstands the test of time." ~ Kyle S.
"Called Rebound for a quotation on an Olympic trampoline. My son is a freestyle skier and needed a new trampoline setup to progress to the next level. Ryan at Rebound helped me through the whole quoting process, and he helped me measure my current frame setup in consultation with his team to find a perfect fit. Awesome service, and I'm happy to support a local Canadian company!" ~ Anthony S.
"I got a detailed reply to my inquiry within minutes!" ~ Jean-François L.
"Ryan, Dave, and the entire team at Rebound Products make phenomenal products. Best of all, they are a small niche group of dedicated professionals, making premium domestically produced goods. We have been using their 2-string performance trampolines in our commercial trampoline parks for over 5 years. Highly recommend them." ~ Luke S.
"Always get great service from M. Ryan Weaver from Rebound Products Inc." ~ Richard L.
"Excellent, prompt service. Very knowledgeable and answered all my questions. Highly recommended." ~ Jayne M.
"Excellent and professional company,. Thanks for your assistance. For clubs who don't need to fold their tramps, this is a very good product and cheaper." ~ T. Burton
"Equipment made with the highest regard for quality, safety and performance. We have 5 string bed trampolines, a non folding string bed DMT, a rebound mini trampoline and a 40-foot power track. All amazing!" ~ Cameron O.
"This company is my favorite. The quality and resistance of its products is very good. 100% approved by Impacto Extremo Chile. In addition, their customer service is extraordinary, Ryan, their CEO, has already become a friend and ally! 100% recommendable." ~ Javier R.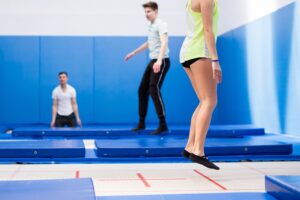 Experience Rebound Products for Yourself!
For an exhilarating way to have fun, train, or stay active, look no further than Rebound Products, your ultimate destination for top-quality trampolines and accessories. With our exceptional products, outstanding service, and unmatched expertise in the trampoline industry, we are here to take your bouncing experience to new heights!
Safety and quality are paramount when it comes to trampolines. That's why we offer a wide range of meticulously crafted trampolines that are built to last. Whether you're a beginner, an athlete, a coach, or a seasoned jumper, you will appreciate that our trampolines are designed to provide the perfect bounce and ensure maximum safety for users of all ages and skill levels.
But our commitment to excellence doesn't stop with our trampolines alone. We also offer a comprehensive selection of accessories to enhance your trampoline experience. From safety enclosures and ladder sets to weather covers and anchor kits, we have everything you need to make your trampoline setup complete. Our accessories are not only durable and reliable but also designed with your safety in mind, allowing you to bounce with peace of mind.
Bounce With the Best
What truly sets Rebound Products apart is our expertise in the trampoline industry. With years of experience and a deep understanding of trampoline mechanics, our team of experts is always ready to assist you in finding the perfect trampoline and accessories for your needs. We pride ourselves on providing personalized customer service, ensuring that you get the right product that suits your preferences and budget.
But don't just take our word for it. Our long list of satisfied customers speaks volumes about the quality and reliability of our products and services. We have garnered a reputation for being a trusted name in the global trampoline industry, and we continue to exceed our customers' expectations with every purchase.
So, why wait? Join the countless individuals who have already experienced the thrill of bouncing on a Rebound Products trampoline. Visit our website today or give us a call to explore our wide range of products, benefit from our exceptional service, and tap into our expertise in the trampolines and accessories space.