Rebound Products' Super-Tramp trampoline is a great option for athletes, gymnasts, and anyone looking to improve their acrobatic or snowboarding abilities. In this blog post, we will talk about the Super-Tramp trampoline and highlight its key features, advantages, and benefits.
One of the most significant advantages of the Super-Tramp trampoline is its sturdy and durable construction. The 10ft by 20ft bed is made from high-quality, weather-resistant material that will withstand even the most vigorous training sessions. The frame pads are 4 inches thick and specially designed to absorb impacts, ensuring maximum safety for users. The Super-Tramp trampoline comes in both free-standing and pit frame styles, allowing for versatile training options.
Features and Specifications of Rebound Products' Super-Tramp trampolines:
Made in Canada
Exclusively sold by Rebound Products*
10ft by 20ft bed
Pit frame and free-standing frames do not fold
Frame pads are 4" thick tapered pads made with two foam layers for optimal impact absorption
Used for technical development and acrobatics
Used by Olympic snowboard medallists for training
Pricing and options can be discussed with the sales representative
Another advantage of the Super-Tramp in Canada is its use of advanced technology to enhance performance. The springs are engineered to provide the perfect bounce, allowing users to achieve greater heights and more complex acrobatic manoeuvres. The trampoline's large size and sturdy frame make it an ideal tool for athletes and snowboarders who want to improve their skills and achieve greater heights.
Key benefits of Super-Tramp trampolines:
● Durable
● Stable
● Large size
● High overall quality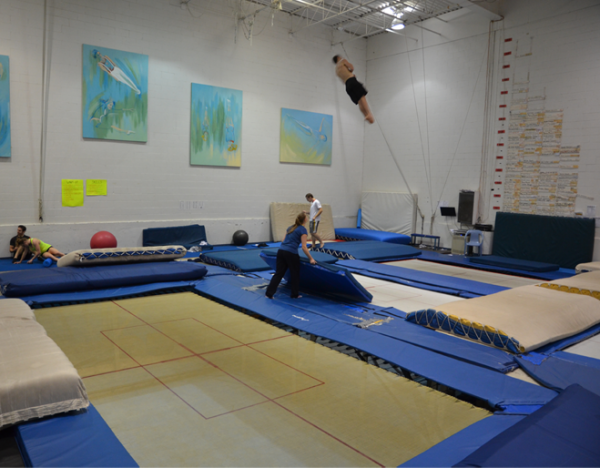 What Our Customers Say About Rebound Products…
Customer reviews found that the Super-Tramp trampoline is a durable, high-performance product that delivers superior results compared to other trampolines on the market. "Quality performance with reliability that's unmatched and at a great price. Researching with a passion for excellence. We believe Rebound Products produces the finest quality trampoline products that money can buy. Dave Ross has proven to be the best mind in research and development of trampoline products since George Nissen invented the apparatus."
~ Bill Y.
And About Super-Tramp…
"The super tramp is an exceptional product that can only be purchased at Rebound Products. I find this "tool" indispensable today for the fastest development of technical level and difficulty. It's a great way to learn acrobatics and skill combinations while minimising the physical constraints of today's trampolines (4x4mm bed)."
~ Guillaume B. "Rebound Product's non-folding frame is by far the best product I've ever used in my gym! They are incomparably robust and stable! Combined with Rebound's beds, the result is a marvel of power and stability."
~ Antoine V.
The Best Decision
Overall, the Super-Tramp trampoline is an excellent investment for anyone looking to improve their athletic or snowboarding skills. While it may have a higher price tag than some other models and require a significant amount of space, its performance and durability make it well worth the investment. Rebound Products has crafted a premium trampoline that can help you achieve your goals in acrobatics or snowboarding, and we highly recommend that you buy Super-Tramp trampolines!
*Note: The Super-Tramp is exclusively available outside the United States, in both Canada and other international locations.