The most important part of professional trampolines affecting their performance is the bed. With over 44 years of accumulated research and testing, Dave Ross has engineered the stable and powerful bounce of the beds that your competitors desire.
The Dave Ross string bed has an unrivalled bouncing surface. You will realise the improved options for improving training techniques and competitive results as soon as you begin your first bounce.
Dave Ross's string beds will reduce how much money you invest in your trampolines for gymnastics, as they last about six times longer than web beds. (Up to 10 times longer if properly maintained!)
Our string beds can also increase an athlete's progress as they remain stable and powerful throughout their entire life. If you are currently not using a Dave Ross string bed, you owe it to yourself to learn what can be accomplished when you buy professional trampolines.
The string bed for a 7×14 trampoline has similar power to a competition trampoline with 4mm webbing. All of our string beds are very powerful. In the freestyle world, string beds are also called hot beds or fly beds.
Rebound Products makes string beds for three sizes of trampolines: double minis, mini-tramps and power-tracks. Each of our string beds is designed to match a specific application. For example, smoothness, grip, power, stability, and lifetime are all variables that we customise for each bed type. Furthermore, they retain their size considerably better than webbed beds over time.
Rebound Safe Bed Clips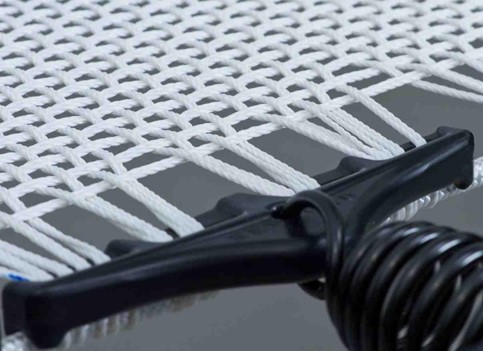 No metal edges to catch a leg or an arm!
History of the Ross 2-String Bed
By Dave Ross, Rebound Products Founder
Revised April 2023
Rebound Products has been making string beds since 1980. Numerous prototypes were produced in the early years, but from 1991 to 2008, the power and construction of our production string beds remained constant. Our string beds were used at the 1996 and 2007 World Trampoline Championships, and at many other prestigious trampoline competitions, which included World Cups, Toronto Harbourfront, Reach for the Sky Trampoline Festival, and countless national championships.
Since 1978, we have considered the conventional stitched trampoline bed technology obsolete. This is because the lengthwise stitching used to hold a bed together also tears the widthwise webbing apart, resulting in an unacceptably shortened lifetime of use. Furthermore, when a string on a string bed is worn or accidentally cut, a new string can be easily spliced in with knots on the bottom of the bed, with the bed remaining on the trampoline frame, so repairs are cheap and easy.
To keep a string bed together, more weaving is required, which means smaller holes (safer) and a better feel on the feet. Also, paint is added during this treatment to stiffen the strings. We did abundant research in the early years to develop our beds to have a very similar bounce to traditional equipment so our athletes could train on string beds and still compete well on webbed beds. For most of that time, the webbed bed involved was a 4/6mm size.
There were still some small performance differences between the professional trampolines. The main difference was that the string bed weighed more but had lower air resistance, so the bounce felt a bit different. To an athlete who did not depress the bed too far, the power was similar to 4/6mm beds. For an athlete who really pushed the bed down, there was slightly more power.
This enabled both small and large athletes to compete successfully, which nicely complemented our adult sport range. Also, the trampolines' power was not as dependent on spring tension, so the softer beds, which older athletes prefer, were still powerful. Our athletes adapted from string to webbed beds in 2 to 6 weeks. In 1996, at the Worlds competition, although very few athletes trained on string beds prior to the training days, their performance level was still very high.
At the 2007 World Championships, with Rebound Products again supplying the equipment, the sport had become included in the Olympics, so many athletes trained on Rebound equipment prior to that event. This was because that meet was the qualifying event for the 2008 Olympic Games. By that point in the development of the sport and with the older age group involved in the open event, most if not all athletes were powerful enough to get a better bounce from a Rebound bed.
Meanwhile, between 1996 and 2007, our frames underwent a significant improvement with the introduction of double braced corners, which subsequently became the industry standard. The combined result was some amazing performances at the 2007 Worlds. In addition, due to our superior springs and the diligent work of our staff, who fine-tuned the trampolines for gymnastics every night during the event, the bounce remained very consistent over the training and competition days, resulting in a lower than usual incidence of failed routines.
After that meet, the international athletes came home to train on 4/6mm beds, and many did not like the harsh feel and the lower power. With so many athletes saying the same thing, the big manufacturers started competing to produce the most powerful beds. So, from that point on, we have had to face the new reality of competition with 4mm webbed beds for those who buy professional trampolines.
Rebound Products responded initially by producing, from 2008 to 2015, a string bed with increased power. This was achieved by opening up the space between strings. This new lighter, lower air resistance bed was very similar in power to the 5/4mm beds used at the 2012 Olympics.
When it became apparent that the 4mm bed was the most common one used at competitions, we did a massive project involving many different weaves and then fine tuning with 11 actual full-size prototype beds tested in the gym to develop a string bed that would bounce in a way that felt very similar to a 4mm webbed bed. The final result was sold from January 2016 through early 2022.
Since March 2016, it has had the new paint job required by the 2017 competition rules. This new bed was very popular. The bounce spoke for itself—a smooth bounce, great power, and great control. In-gym comparisons with 4mm averaging over a range of athletes showed only minor power differences. For the average athlete, the 4mm gave higher 10-bounce times, but the new 2-string bed gave higher routine times. On top of the nice feeling on the feet and the superior lifetime, athletes who were recovering from injury could train longer on the more forgiving bed. The adaptation time required to prepare for competitions on webbed beds was shorter overall.
The latest generation of our competition-size string bed was developed in 2021 and went on sale starting in late 2022. This bed has been fine tuned to have a smoother bounce, be a bit lighter, and be a bit more powerful. When it was sprung up with our amazing new rapid springs, the result was slightly more power for both light and heavy athletes, whether bouncing or doing routines, compared to 4mm webbing. The time needed to adjust to a competition setup is shorter than ever. Meanwhile, your athletes can accomplish more in training. This is done at a far lower cost per hour.
The Future
We have believed since 1976, and proved it in 1981 with an 8.4×14 ft bed prototype trampoline, that the direction for evolution of competition trampolines is towards larger framed trampolines.
We came to understand that the smoother bounce and wider sweet spot of such a device would be best provided using standard width beds and wider frame pads (and ropes to the springs under the pads) to also create additional sideways safety. To this end, we now sell a trampoline with a non-folding frame. It is already a hit with wall trampoline professionals.
Changing international rules is not easy. The quest for a better bounce continues.