When it comes to trampolines and trampoline equipment, Rebound Products is the name to trust. As a world-renowned manufacturer and authorized dealer, they have been supplying high-quality trampolines, springs, accessories, beds, and mats for decades. Their commitment to safety, quality, and constant innovation has earned them credibility and longevity in Canada, the U.S., and worldwide. They cater to both national and international markets, serving professional athletes, coaches, entertainers, and gym owners.
Designing with Customers in Mind
One of the key reasons why Rebound Products stands out in the industry is their customer-focused approach to design. Their trampolines are carefully crafted to meet the most stringent requirements, ensuring the utmost safety and performance. They have forged strong relationships with gyms and athletes across the industry, offering a wide selection of equipment and services tailored to meet the specific needs of each.
Technological Advancements in Trampolines and Accessories
In terms of innovation, Rebound Products has consistently pushed the boundaries of trampoline technology. They have introduced several groundbreaking ideas and products that have gained international acceptance. These include corner springs, smoother force curve springs, triangulated dual corner braces for frame stability, thicker and tapered frame pads, more powerful beds, level end decks, and stiffer trampoline legs for improved frame stability. These innovations have set new standards in the industry and have contributed to Rebound Products' stellar reputation.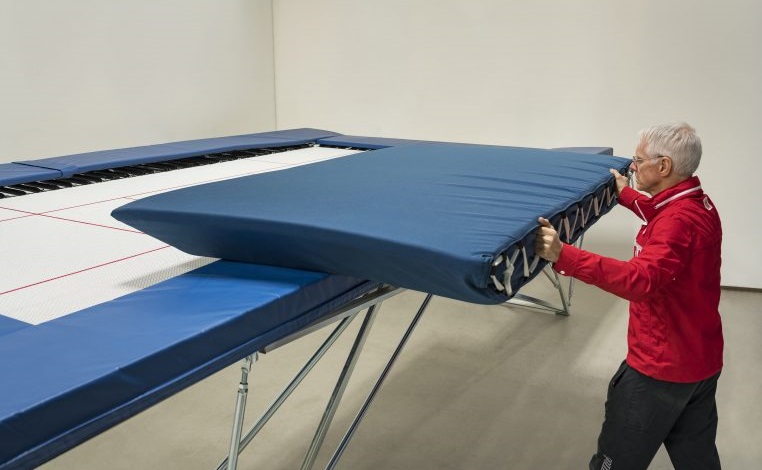 Exceptional Industry Experience
What truly sets Rebound Products apart is their exceptional customer service. The team at Rebound Products is passionate about trampolines and goes above and beyond to ensure that customers receive the best products and equipment recommendations. They are problem-solvers committed to assisting gym owners and athletes in finding the ideal equipment for their activities. Their dedication to providing outstanding quality products and superior customer service has earned them a great reputation in the industry.
A Rich History and a Unique Perspective
Rebound Products has a rich history rooted in helping athletes achieve their goals and creating new safety and performance standards for trampoline equipment. The company's owner, Dave Ross, is an Olympic-level trampoline coach who has been supporting athletes and coaches since the late 1970s. His expertise and dedication have been instrumental in the development and testing of Rebound Products' trampolines and equipment. Professional gyms and training facilities for snowboarding, diving, and trampoline use and trust their products.
Quality and Durability
The peer recognition Rebound Products has received over the years speaks volumes about their commitment to excellence. Satisfied customers have praised the excellent quality, performance, and durability of their products, as well as their unmatched customer service. Rebound Products has become synonymous with producing the finest quality trampoline products in the world.
Trampoline Mats to Suit Every Need
Rebound Products offers a range of trampoline mats to cater to different needs. The Throw Mats, available in three sizes, have excellent wear, replaceable foam, and comfortable handles. These mats are specially designed to remove most of an athlete's bounce, making them ideal for training purposes.
The End Deck Mats, available in competition sizes, feature a unique safety feature that protects ankles. The Eurotramp Landing Zone offers excellent coverage and is adaptable with layered foam to extend its useful life. The Ground Safety Mats, meeting international competition specifications, are perfect for placing around trampolines to ensure safety.
Quality and Durability Guaranteed
When it comes to trampoline mats, Rebound Products offers unmatched quality and durability. The mats are made of 1000D Nylon material on the outer fabric and feature polyurethane soft foam on the inside. While the nylon shell is weather resistant to the sun, it is recommended to store the mats indoors to protect them from rain and snow. These mats are easy to install and safe for kids to use, providing an extra layer of protection during trampolining activities. Rebound Products offers a one-year warranty for manufacturing defects in the mats.
Choose Rebound Products for Trampolining Excellence
It's clear to see why Rebound Products has been a trusted provider of trampolines and trampoline accessories for decades. Their experience, dedication to quality, and innovative approach have made them leaders in the industry. Whether you are an athlete, coach, entertainer, or gym owner, Rebound Products has the perfect trampolines and accessories for you. Contact them today for more information, and let their team help you enjoy the exhilarating world of trampolining.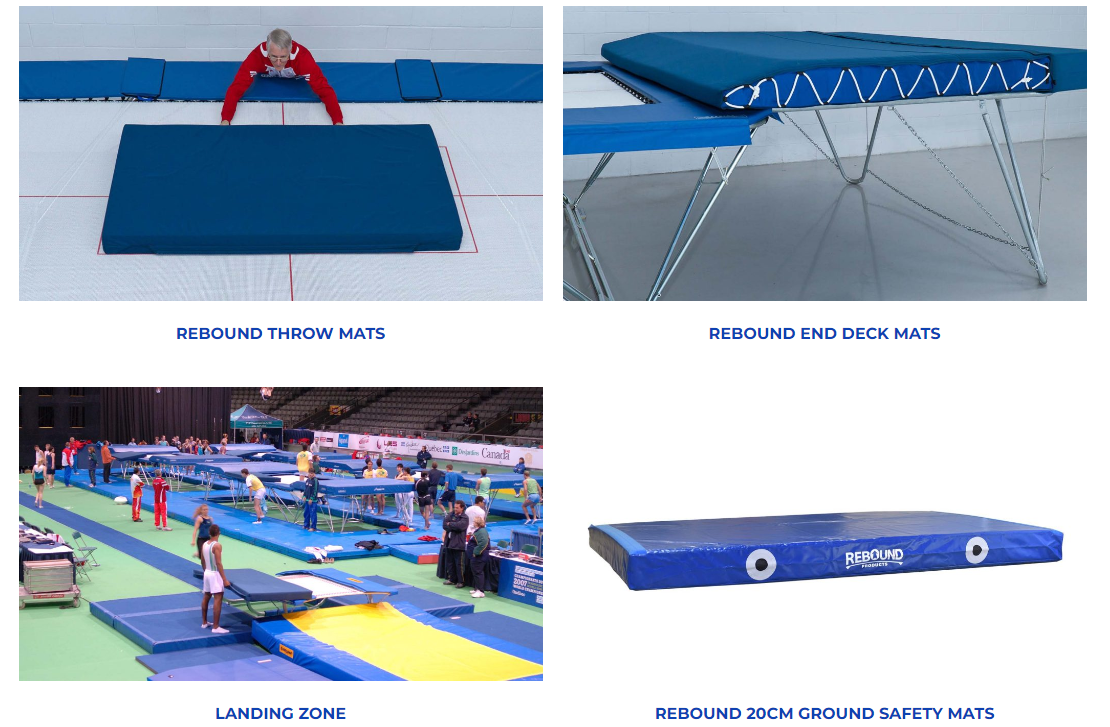 Rebound Products Offers the Perfect Mats for the Best Trampolining Experience
Rebound Throw Mats
A Rebound Products Exclusive, Made in Canada – available in 3 sizes
Rebound throw mats have excellent wear, replaceable foam, and comfortable handles. The competition sized small mats are the most popular, but the large mats provide better cushioning. At 102" x 57" x 11", they are specially designed to accommodate most of an athlete's bounce.
The covers have no stitching on the edges, so the material in our covers vastly outlasts traditional mat covers.
Rebound End Deck Mats
A Rebound Products Exclusive, Made in Canada
Our end deck mats are available in competition sizes of 2.4m deep or at a depth of 2m in a single piece. Our competition sized version has a Velcro join at the back, so there is never an issue with the join. (Another Rebound innovation which has been copied.)
A thin layer of firmer foam at the bottom edge of the trampoline frame and end deck frame area is a unique and important safety feature that protects ankles. Covers can be ordered in traditional vinyl or the superior lifetime material used in our throw mats, which is water resistant, but not waterproof.
Landing Zone
Rebound Products is an Authorized Eurotramp Dealer
– DMT or Tumbling Landing Zone
Rebound Products imports the excellent Eurotramp module covers and the overall zone cover, which are very well made to the official competition size and markings, and adds Canadian foam to keep the cost down.
In addition, the foam we use is layered, making it possible to switch the layers around as your modules age. This will increase the useful lifetime of your zone.
Rebound 20cm Ground Safety Mats
Internationally sized mats at rock bottom prices (3m x 2m x 20cm)
To be placed on the floor around trampolines, these mats meet international competition specifications. The foam inside is two layers of soft foam below one layer of closed cell foam.