Trampolines are essential tools for gymnasts. They support their training activities by providing the bounce and force needed for them to perform incredible feats.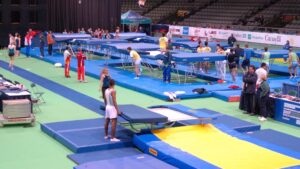 For safety and performance reasons, there is an international standard for trampolines used in competitions. However, depending on the competition and the gymnast's needs, the size and shape of the competition trampoline can vary.
Different Competition Trampoline Sizes
A gymnast's age, size and skill level help to determine the type of trampoline they need.
8ft x 12ft
This is a size that is great for young gymnasts. It's even used in gymnastic club trampoline competitions for young gymnasts. Small children with light bodies adjust very well to this size. However, once they develop greater skills and begin performing backflips, they'll require a bigger trampoline.
9ft x 14ft
This size of trampoline is standard for developing gymnasts. It generates a lot of bounce without excessive energy input. The 9ft x 14ft trampoline is suitable for all ages. The extra length allows young gymnasts to refine and enhance their tumbling skills safely.
10ft x 17ft
This is the standard size of an Olympic size competition trampoline. Gymnasts who have developed a lot of skills for linked tumbles benefit from the larger area. Also, this larger trampoline requires more effort on the part of the gymnast to generate bounce. Smaller gymnasts need to work harder to elevate themselves on this larger trampoline.
Customized Fabrications
There are some customized trampoline sizes available beyond the standard, including a 12ft x 7ft model. Slight customizations are always in use in different gymnast competitions. However, they also retain standards to ensure that no athlete has an unfair advantage. You can inquire about customized competition trampolines by contacting us at (905) 787-9090.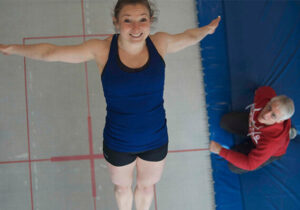 What is the Most Popular Gymnastic Club Trampoline Shape?
Trampolines come in various shapes, including square, oval, octagonal and round. However, the rectangular shape is the standard for competitions around the world. At the Olympics, rectangular trampolines are preferred because of their expressive bounce.
Different Competition Trampoline Types
There are two basic types of trampolines used in competitions. The first is the traditional raised trampoline. There are also ground level trampolines; this option offers great elastic potential energy transfer. However, they aren't as effective for competitions, since they require the digging of holes for installation (and this can become costly).
Recently, there have been more spring-free trampolines manufactured and endorsed by Olympic athletes. These models use composite rods instead of springs under the jumping surface, and this removes any hard elements on the jumping surface. Spring-free trampolines are a popular choice because they can reduce the chance of sustaining some of the most common trampoline injuries.
We offer customized fabrications for athletes, professionals, and amateurs, too. Our staff provides consultations to design a specific trampoline in the shape and size that you need. Get in touch with us today to order your customized competition trampoline!